Color revestido acanaló la hoja de acero para techos con película
Color revestido acanaló la hoja de acero para techos con película
| | |
| --- | --- |
| Tipo de Pago: | L/C, T/T, Western Union, Paypal, Kunlun Bank |
| Plazo de entrega: | 1 días |

productividad:

1000 Tons/Day

Lugar de origen:

China

Capacidad de suministro:

1000 Tons/Day

Certificados :

ISO, SGS, BV
Información básica
Modelo: SGCC, SGCH, G550, DX51D, DX52D, DX53D
Descripción del producto
Modelo NO.: SGCC SGCH, G550, DX51D, DX52D, DX53D estándar: ASTM, AISI, GB, JIS, DIN, BS tratamiento superficial: revestido aplicación: Stock de la placa de la nave: Stock ancho:: 600-1250 m m Lentejuela:: Regular, mínimo, cero, mercados de exportación grande:: MOQ Global:: paquete de transporte de 25 toneladas: embalaje marinero estándar de la exportación del origen: China tipo: certificación de la hoja del material para techos: ISO, SGS, BV técnica: en frío uso especial: espesor de placa de acero de alta resistencia:: 0.13-1,0 mm tolerancia :: "+-0.02mm Zinc capa:: muestra 60-275G/M2:: libre de marca: Jinan China acero Especificación: SGCC, DX51D, SGCH, A653 código del HS: 7210490000 Material: SGCC SGCH, G550, DX51D, DX52D, DX53D
Thickness: 0.13-1.0mm
Width: 600-1000mm
Popular medidas:
Raw material 762mm a 680,670,660,655,650 mm (después de corrugado) y 9 waves
Raw material de 914mm a 815,810,790,780mm (después de corrugado) y 11 waves
Raw material mm 1000 mm 930 915,910,905,900,880,875 (después de corrugado) y tratamiento de waves
Surface 12 o 14 : unoil, seco, pasivado, cromato no cromato passivated
Package: marinero package
Monthly salida: 30000 tons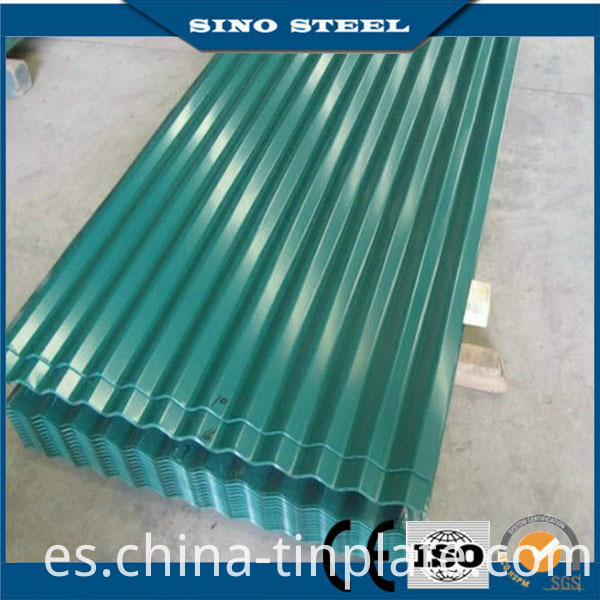 Why elegir Sino acero?
1, ISO, BV, CE, SGS approved
2, precio competitivo y la calidad de nuestra propia factory
3, equipo de servicio en línea para 24 hours
4, lisa producción capacidad (50000tons/mes)
5, entrega rápida y estándar de exportación de package
6. Cooperación con acero de BAO STEEL y LAIWU.
7. Flexibles de pago T/T, L/C, Paypal, Banco de Kunlun, etc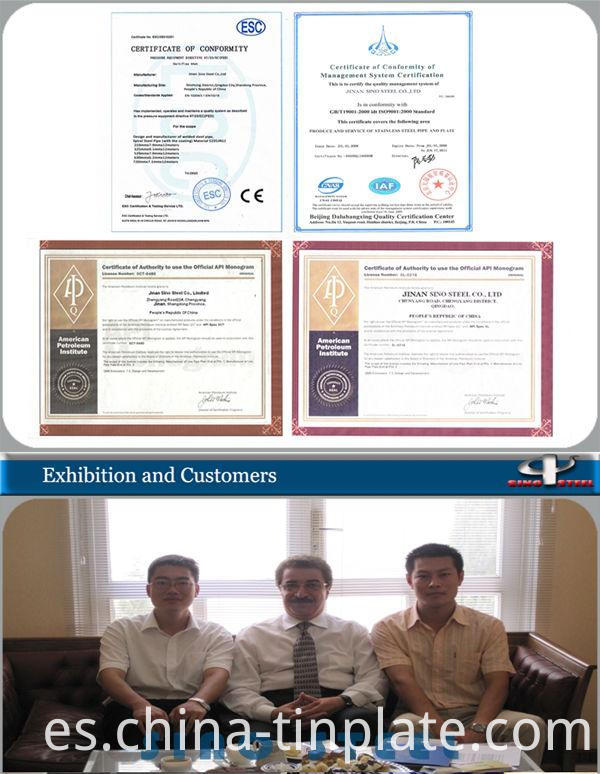 Advantage
*Competitive precio y alta calidad.
*Fast comentarios y tiempo de entrega rápida.
*Rich experiencia para exportar mercancías a otro país.
*Kunlun cuenta Irán.
*Good servicio.
Thickness
0.17-0.9 mm
 Material
JIS G3302,SGCH,SGCC,DX51D+Z,ASTM A653
Width
before corrugation:1000mm; after corrugation:915,910,905,900,880,875
before corrugation:914mm; after corrugation:815,810,790,780
before corrugation:762mm; after corrugation:680,670,660,655,650
Zinc coating
Z40-Z275g/m2
Wave Height
17-25 mm
Coating
Galvanized/galvalume/color 
Spangle
Regular spangle, large spangle, minimumed spangle
Surface Treatment
Unoil,dry,chromate passivated, anti-finger print ,different color coating, matt surface
Tolerance
Width & Length : +/-0.05mm
Thickness: +/-0.02m
Certification
ISO 9001-2008, SGS
Packing detail
Waterproof paper, galvanized steel strip with wooden or iron  pallet packed
Application
Roofing Building , Struction building,warehouse,container,house deocrate and so on .
Grupos de Producto : Hojas de techo