0.40 * 914 PPGI acero prepintado corrugado para techos hoja
0.40 * 914 PPGI acero prepintado corrugado para techos hoja
| | |
| --- | --- |
| Tipo de Pago: | L/C, T/T, Western Union, Paypal, Kunlun Bank |
| Plazo de entrega: | 1 días |

productividad:

1000 Tons/Day

Lugar de origen:

China

Capacidad de suministro:

1000 Tons/Day

Certificados :

ISO, SGS, BV
Información básica
Modelo: SGCC, SGCH, G550, DX51D, DX52D, DX53D
Descripción del producto
Modelo NO.: Grado de acero SGCC SGCH, G550, DX51D, DX52D, DX53D: DC51d SGCC Sgch, A653, Dx52D, Dx53D tratamiento superficial: galvanizado aplicación: caldera placa Stock: Stock grueso:: 0.13-1,0 mm tolerancia:: "+-0.02 mm galvanizado:: MOQ 60-275 G/M2:: libre marca: especificación de acero de China Jinan: SGCC, DX51D, SGCH, código del HS A653: 7210490000 estándar: ASTM, JIS, GB, AISI, estruendo, BS certificación: ISO, SGS, BV técnica: borde laminado en frío : Hendidura borde producción técnica:: pintura doble y doble cocción proceso de ancho:: 600-1250 m m Lentejuela:: Regular, mínimo, cero, grandes mercados de exportación:: muestra mundial:: paquete libre de transporte: estándar marinero de la exportación embalaje origen: China Material: SGCC SGCH, G550, DX51D, DX52D, DX53D
Thickness: 0.13-1.0mm
Width: 600-1000mm
Popular medidas:
Raw material 762mm a 680,670,660,655,650 mm (después de corrugado) y 9 waves
Raw material de 914mm a 815,810,790,780mm (después de corrugado) y 11 waves
Raw material mm 1000 mm 930 915,910,905,900,880,875 (después de corrugado) y tratamiento de waves
Surface 12 o 14 : unoil, seco, pasivado, cromato no cromato passivated
Package: marinero package
Monthly salida: 30000 tons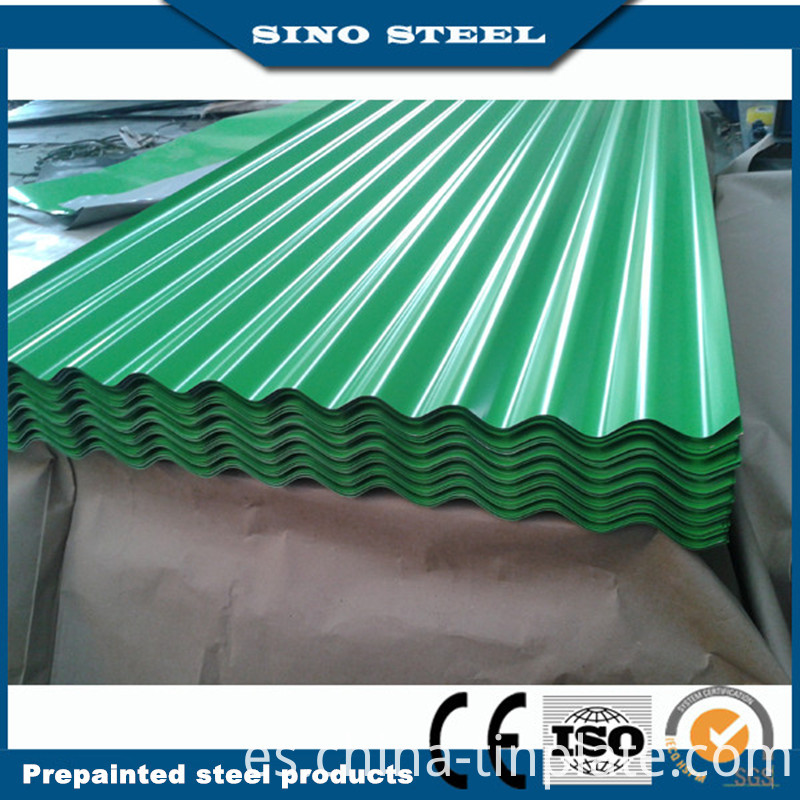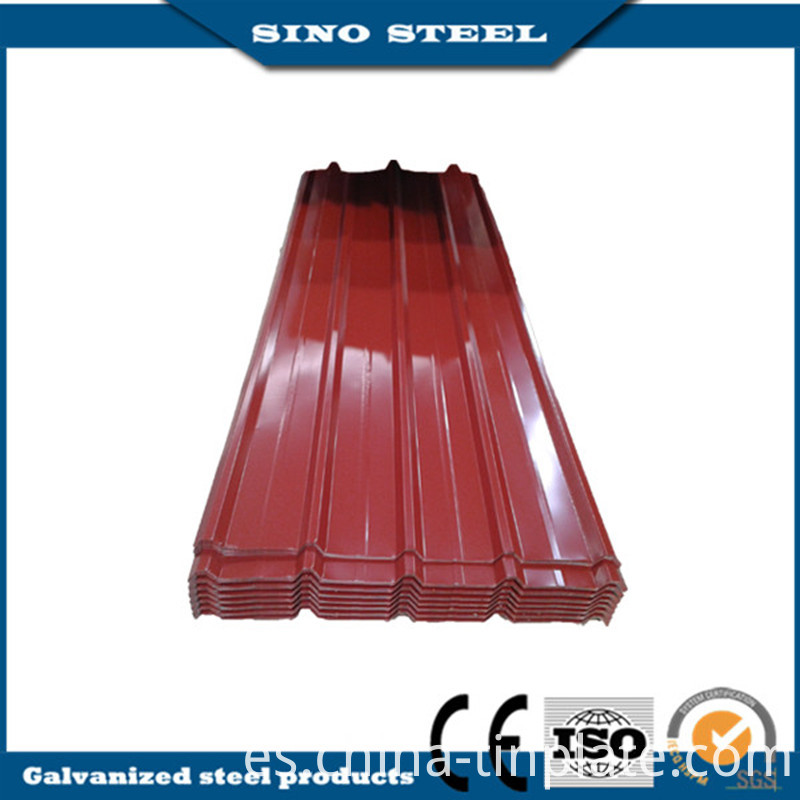 clientes
Company Culture
Take la calidad tomar honrado, como la Fundación!
Strive para la calidad con base de supervivencia!
 Thickness
0.17-0.9 mm
 Material
JIS G3302,SGCH,SGCC,DX51D+Z,ASTM A653
Width
before corrugation:1000mm; after corrugation:915,910,905,900,880,875
before corrugation:914mm; after corrugation:815,810,790,780
before corrugation:762mm; after corrugation:680,670,660,655,650
Zinc coating
Z40-Z275g/m2
Wave Height
17-25 mm
Coating
Galvanized/galvalume/color 
Spangle
Regular spangle, large spangle, minimumed spangle
Surface Treatment
Unoil,dry,chromate passivated, anti-finger print ,different color coating, matt surface
Tolerance
Width & Length : +/-0.05mm
Thickness: +/-0.02m
Certification
ISO 9001-2008, SGS
Packing detail
Waterproof paper, galvanized steel strip with wooden or iron  pallet packed
Application
Roofing Building , Struction building,warehouse,container,house deocrate and so on .
Contact Information
Panda Zhao
Tel: +86 156 6267 5360
Grupos de Producto : Hoja de techo